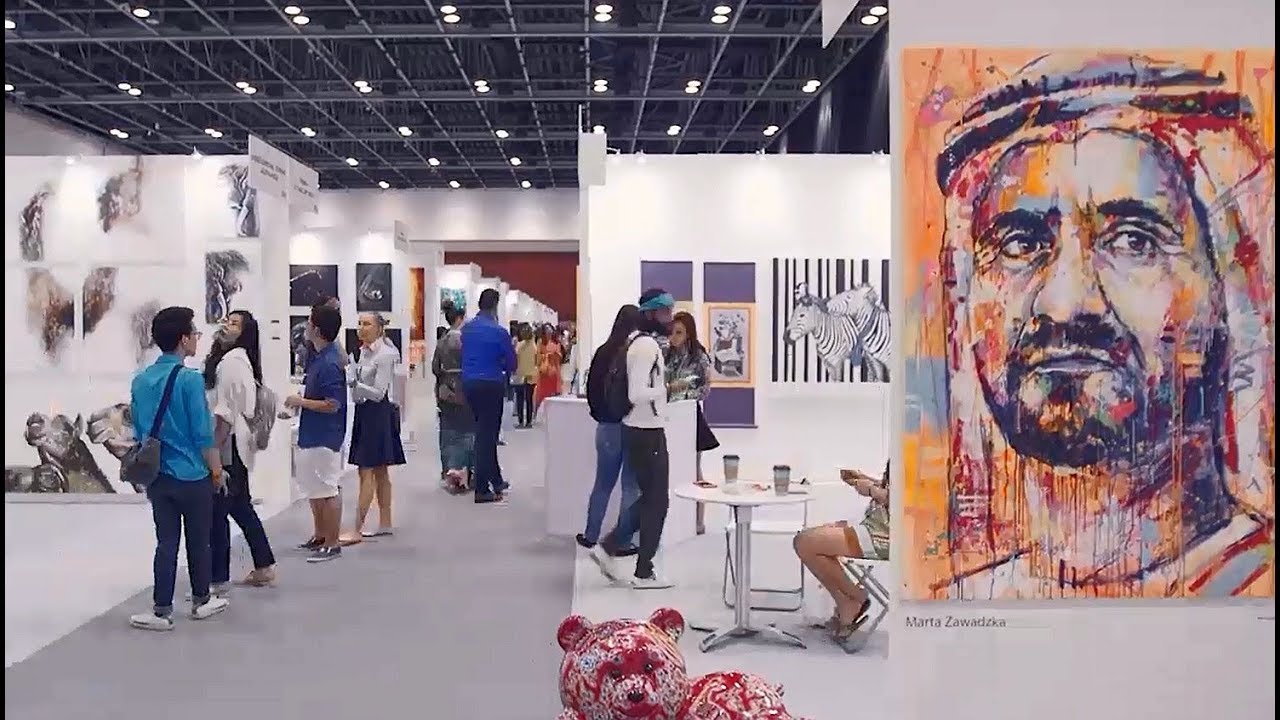 World Art Dubai is known as the largest affordable Art Retail Fair, it showcases fusion of art, entertainment, education, designers, retailers, dealers and uniting artists all in one lively space.
This is one of the most-awaited events of Dubai and it aims to make art accessible to all with a diverse range of mixed media, photographs, entertainment from all over the world. World Art Dubai makes it possible for the visitors to partake in activities across their halls, where you can meet over 200 exhibitors from all around the globe.
The fifth edition made its comeback this year in Dubai at the World Trade Centre, boasting a collection of 150 galleries and artist from over 30 countries displaying over 3000 arts pieces. You are bound to find some fantastic work of art from such a vast range.
For its fifth year the competition held the theme "My Culture, My Neighbourhood, My Community" and a stream of international and Emirati artist s covered all tastes, from calligraphy to pop art. They also inaugurated Emerging Artists Competition and Exhibition, and the artwork of the winning artist will be displayed at the Rove Hotel Dubai, Rove Trade Centre, and then the artists will be invited to display their work at the Rove Café, which is a renowned new feature at this year's World Art Dubai.
The workshop included Frank Noto a French self-taught graffiti artist who held a workshop for those who would like to learn a thing or two about different graffiti techniques and his tricks. He is France's most distinguished artist with his artwork splashed in different cities around the world.
If you are into photography, World Art Dubai serves as a Nikon's photo walk Studio, it will lead you through to curated exhibits led by experts in photography to help you gain the skills you require for event photography. For Calligraphy lovers who love writing their names or would like to learn further skills and about the art itself this workshop is the place for you. A Dubai Guinness Record Graffiti Scroll participant, Diaa Allam will also be hosting a workshop. Her latest work recently was showcased for the launch of the all new Dubai Airport.
The art season in Dubai explodes to life in March and April to bring creativity to the forefront in the city. There are many more highlights at Art Dubai fair including Global Art Forum, titled 'School is a Factory?'. It explores the contemporary education and learning, as well as the programme that develops the youth art scene. This programme addresses some the challenges and opportunities faced in education today. The World Art Dubai Festival will be held between 25-03-2020 till 28-03-2020, while you are waiting for the next spring you can explore the Art Salon, a programme that is offered to UAE-based art collectors and enthusiast in an all year exclusive art experiences and events. It is an initiative by Art Dubai, the events are held on a monthly basis and they include exclusive access to the exhibitions, museums and galleries.